Engineering - Key Stage 4
Following their introduction to the world of engineering and manufacture in key Stage 3 many students choose to continue studying Engineering at Key Stage 4 where they follow the OCR Cambridge Nationals Engineering Manufacture Level 1/2 Award/Certificate course.
Students have to study four units which make up the course content:
Unit 1: Engineering Materials, Processes and Production
Unit 2: Preparing and Planning for Manufacture
Unit 3: Computer-Aided Manufacturing
Unit 4: Quality Control of Engineered Products
The types of tasks that are completed are:
Making products and components in metal
Machine setting and tool maintenance
Use of lathes and milling machines to close tolerances
Use of hand and bench tools to produce quality outcomes
The course is assessed through:
Controlled Assessment - Units 2, 3 and 4 are assessed internally through controlled assessment and make up 75% of the final grade
Examination - Unit 1: Engineering Materials, Processes and Production is assessed via a written examination worth 25% of the final grade.
The award is graded Level 2 Pass, Merit, Distinction, Distinction *, or Level 1.
Students who study Engineering can go on to gain employment in a variety of Engineering or Manufacturing roles including Engineering Technician, Maintenance Fitter and Manufacturing Operative. The course also provides a pathway into apprenticeships and further studies.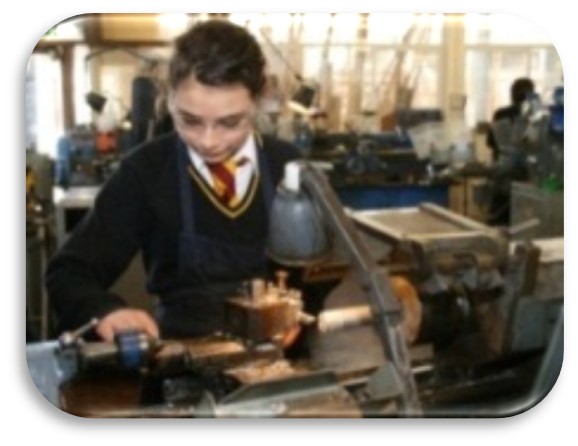 Click here to return to the Arts and Technology page.