Design and Technology
Key Stage 3 Design and Technology
The Key Stage 3 curriculum in Design and Technology aims to build on previous knowledge, aptitude and natural enthusiasm to develop a student's Design and Technology capability through a variety of activities. Focussed practical tasks give students the opportunity to learn and practise particular skills and knowledge.
Design and making assignments provide students with the opportunity to use their capability to develop products which meet the needs of a given design situation. Product Analysis tasks enable students to investigate existing products and use their findings to improve their own repertoire of skills, knowledge and understanding.
The method of delivery is intensely practical and based on the belief that students learn most effectively by doing: producing practical solutions to design problems. Consequently, our schemes of work, particularly at Key Stage 3, are aimed towards the realisation of quality products that students are proud to take home.
At Key Stage 3 students work in ability based groups of an average size of 21 students. As students' progress from Year 7 to 8 they experience the full range of Design and Technology disciplines in modules of approximately 18 hours. Construction, Food Technology, Metal work, Graphics and Textiles Technology form the heart of the curriculum at Key Stage 3 and provide the stepping stone to progress to Key Stage 4.
Construction
Food Technology
Metal Work - Metal Work in Key Stage 3 is about introducing students to the world of engineering and manufacture. In Year 7 students will make a coat-hook from aluminium, and in Year 8 a spinning top made from aluminium and steel. They start each project with a workshop on Health and Safety and how to behave in a mature and disciplined fashion in the workshop. The students learn how to read a basic engineering drawing and translate this into a functioning coat - hook, or a spinning top. This is achieved by the effective and efficient use of hand-tools and machinery. An accompanying booklet is filled out as the students learn new skills and processes to reinforce the learning.
Graphics - The Key Stage 3 project in Graphics is an advertising project aimed at designing all the promotional information and the specific packaging for a product. Throughout the module students look at freehand drawing, colour selection, mind mapping their ideas, writing a design brief, analysing existing products, creating a specification list, brand identity when designing logos and the use of 2-Dimensional design software with which they will design the package for their product, and finally 3-Dimensional modelling when students print, laminate and construct their final packaging.
Textiles - The following topics are covered in Key Stage 3:
Year 7:

Properties of Fabrics
Natural and Synthetic Fibres
Embroidery techniques.
Fabric food

Year 8:

Working with stencils and fabric spray paints
Fashion Illustration techniques using computer software
Research into upcycling and graffiti techniques
Design and Technology Key Stage 4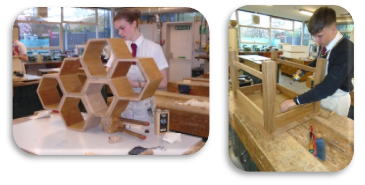 Students who choose to study Design and Technology at Key Stage 4 will follow the AQA GCSE Design and Technology course.
The areas covered in the course include:
The design process
The role of the designer
Shaping and joining a range of materials
Design and make exercises
Product analysis
Computer aided design and manufacture
The types of tasks that are completed are:
Mini design and make projects
Designing and making projects from a range of materials (wood, metal, plastic)
Gaining knowledge of materials and how they can be shaped and joined
Modelling techniques
Using computers to design and manufacture products
The course is assessed through:
A project of approximately 50 hours duration consisting of a design and make task with an accompanying design folder worth 50% of the final grade.
There will be a 2 hour written examination worth 50% of the final grade.
Students who study Design and Technology can go on to gain employment in occupations where designing and making are important such as Engineering, Architecture, Civil Engineering, Joinery, Craft careers, product design, graphic design and furniture design. The course also provides a pathway into manufacturing apprenticeships and A level Product Design.
Product Design Key Stage 5
Students who choose to study Product Design at Key Stage 5 follow the AQA 3D Product Design A level course.
We have excellent Technology facilities at Marlborough along with experienced staff who are able to pass on a range of skills, both practical and theoretical to students which result in high quality outcomes.
Course Content:
Students investigate historical, social, cultural, environmental and economic influences on design and technology, whilst enjoying opportunities to put their learning in to practice by producing prototypes of their choice. Students will gain a real understanding of what it means to be a designer, alongside the knowledge and skills sought by higher education and employers.
Assessment:
Non-Examination Assessment
Students have to produce a written or digital design portfolio which includes photographic evidence of a final prototype designed during the course. Students will need to show practical application of the technical, designing and making principles that they have studied throughout the course. The portfolio is worth 50% of the final grade.
There are two written examinations:
Paper 1 is a 2 hour 30 minute examination worth 30% of the final grade. It is a mixture of short answer and extended responses to questions based on technical principles as studied throughout the course.
Paper 2 is a 1 hour 30 minute examination worth 20% of the final grade. It is a mixture of short answer and extended responses to questions on product analysis and commercial manufacture.
The A level Product Design course gives students the practical skills, theoretical knowledge and confidence to succeed in a number of careers, especially those in the creative industries such as graphic design, set design, model making, furniture design and making. Other career options include engineering (civil engineering/aviation/marine/mechanical) and architecture. The course will also allow for progression onto higher eduction courses.