Music
Music at The Marlborough Science Academy is taught within a creative and fun atmosphere where students are encouraged to fulfil their potential in performing, listening and composing.
We have a specialist music room which contains a suite of iMac computers and keyboards. In addition, the department has three practice rooms. The music department is very well stocked with a grand piano, thirty guitars, thirty ukuleles, three upright pianos, a modest stock of orchestral instruments, classroom percussion, and excellent instruments and resources for aspiring Rock and Pop musicians.
We offer instrumental and vocal lessons in:
Flute
Clarinet
Saxophone
Electric Guitar
Drum-kit
Voice
Keyboard
Piano
All instrumental and vocal lessons take place during the school day and timetabling priority is given to senior examination students. Fees for instrumental and vocal lessons are set by our local music hub the Hertfordshire Music Service, who provide the lessons.
As well as Music being a popular subject at GCSE, there are also many varied extracurricular opportunities available for students to explore. Our recent production of "Matilda" was stunning and really showcased the incredible talent we have in the department! We hold our own music festival each Summer - M Festival, which is a fantastic platform for our students. We have a popular school choir, a pop and rock band, ukulele group and wind ensemble. There are many opportunities for students to perform in public aside from what has already been mentioned; prize giving, open evening, open mic nights, Christmas carol concerts, recital evenings and Friday lunchtime performances.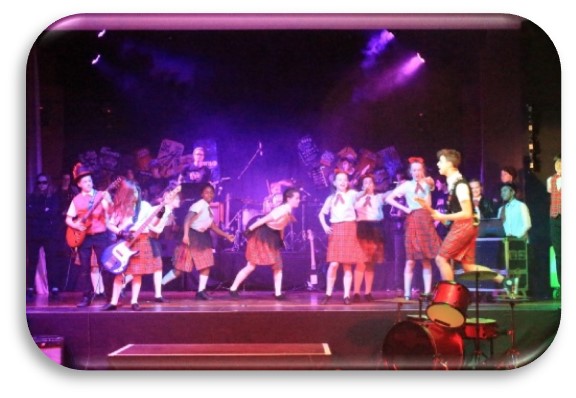 Please use the links below to find out more about the teaching and learning taking place in the Music department:
Click here to return to the Arts and Technology page.