Sustainability Ethos
Key Concept: The principle of sustainability surrounds the theory that using resources should meet the needs of the current population without negatively impacting the lives, prospects and availability of resources for future generations. Sustainability however, is more than just environmentally based, the concept of sustainability takes into account a variety of areas within a school, as depicted in figure 1 below.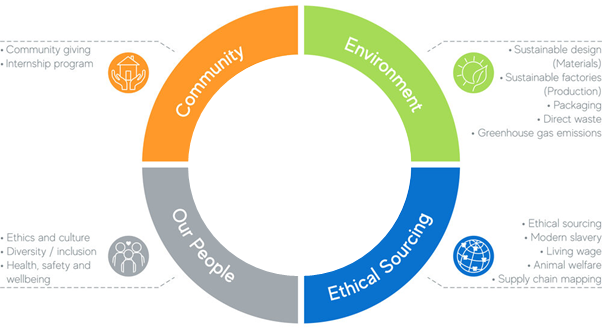 Vision: Our vision is to increased awareness of our students, parents and the local community surrounding the range of measures we are putting in place to increase the sustainability of our school site. If successful, we will steadily increase our sustainability efforts each year as participation, understanding and enthusiasm improves.
Approach: Our approach will surround the four key areas depicted in figure 1. By systematically working through these elements we can ensure we are attempting to increase the schools sustainability in its entirety, not simply through environmental measures. In addition, by looking at sustainability holistically, we hope to involve a wider range of our schools population as well as organisations who directly influence the school, such as caterers and cleaners.
The four sections below outline how our school is currently meeting and working towards becoming fully sustainable
Environment:
Plastic recycling: Each classroom has an individual plastic recycling bin to encourage students to effectively recycle their bottles after they have become unusable. In addition, we have designated plastic recycling bins located in key areas around our site and encourage recycling through a house point system.
Canteen cutlery: Our canteen now exclusively uses wooden cutlery and cardboard containers, reducing decomposition time in landfill.
Littering: Specific bin placement and student education has decreased littering around site, however to improve further we have setup a weekly litterpick competition within forms to encourage a sense of community and ownership between students.
Clothes recycling: Our school site offers charitable clothes recycling to reduce landfill.
Cardboard recycling: All large cardboard packaging from deliveries in compressed are recycled weekly, reducing landfill and improving environmental responsibility.
Waste paper recycling: All classroom and staff hubs have designated paper recycling boxes which are effectively disposed of, reducing landfill and encourages scrap paper use.
Increase tree planting: We have increased the species diversity and volume of trees surround out newly located Jubilee garden. We believe this will encourage a greater array of nesting birds and insect populations, as well as reducing overland flow of water during winter months which decreases how muddy areas become.
Increase wildflower areas on field: As part of our Jubilee garden restoration, we have allocated planters which will specifically grow pollinating plant species to increase bee and butterfly populations across the school
Bird and bee habitats: We have distributed bee and bird boxes around site to increase species volume and diversity.
Community:
Charity fundraising: We support a variety of charities throughout our academic year. Students work both individually and within houses to help fund, Mental Health Awareness, Guide Dogs, Jeans for Genes, Macmillan Cancer Support and local food banks.
Sustfest (St Albans Sustainability Festival): Our schools policies have been published at part of Sustfest since 2019. We aim to continue working with St Albans council over the following years to improve community awareness.
Our People:
Festival awareness: To ensure our students have a full understanding of religious festivals, we ensure we incorporate all major celebrations into our learning. These festivals are an important element of our whole school approach to diversity, inclusion and cultural understanding.
Staff wellbeing: Our school puts staff mental health as a priority. We have a popular buddy system which provides secret support throughout the year between staff, boosting morale and happiness across teachers and support staff. In addition, we encourage staff to visit our school councillor in times of need as well as operating and open door policy.
Curriculum: The curriculum within our geography department dedicates significant time across all key stages to develop awareness and understanding of environmental sustainability. This is in addition to whole school assemblies of climate change, recycling and littering.
Ethical Sourcing:
Canteen food: Our new canteen provider works hard to ensure produce is obtained locally, recuing food miles and increasing job creation within the local area.
Minimising packages and single use plastic: As a push to reduce the amount of single use plastic used around site which encourage students to bring a reusable bottle with them to school and have increased the volume of drinking water taps around site. We have also reduced the volume of plastic bottled drinks which are sold in the canteen, replacing them with biodegradable cardboard packages.
'Meat Free Mondays' in our canteen: We will soon launch out 'Meat Free Mondays' program which ensures all produce sold by the canteen on a Monday is vegetarian. We understand that meat consumption is the largest driver of climate destruction and hope encouraging students to steadily decrease their meat consumption will lead to a more sustainable future.
For any additional information surround Marlborough Science Academies sustainability goals, please contact:
Mr James (sustainability coordinator) – j.james@marlborough.herts.sch.uk