Art
Key Stage 3
At Key Stage 3 students develop a foundation of skills and learn the formal elements of art. We aim to connect creativity and imagination with development of skills and techniques, so the students have freedom to create with intention. Students will learn about the importance of art within the commercial world, the relevance of art in the intellectual world and how they might play a part of it. Teaching creativity brings with it other transferable skills such as communication, problem solving, risk taking, developing confidence, researching, understanding others, expressing ideas and conveys meanings. We aim to teach students how to use the power of creativity in all aspects of their life.
In Year 7 we explore the formal elements:
Tone
Colour
Pattern
Texture
Line
Under these topic themes we will teach students to use materials such as pencil, paint, water colour, collage, clay, print, mixed media. We will also teach them various processes such as drawing and painting, printmaking, clay, 3D structure, combing mixed media etc.
In Year 8 we develop the formal elements from Year 7 with reference to the materials and techniques also learnt. We explore themes such as
Design - mobile phone design, poster design, animation design
Genres - still life, portraits, landscapes
These projects may change year on year as we reinvent new schemes of work to allow us fresh approaches and to stay in touch with current themes or trending ideas in current popular culture.
Key stage 4
Art and Design: Fine Art Key Stage 4
Students who choose to study Art and Design: Fine Art at Key Stage 4 follow the Edexcel Art and Design Fine Art course.
During the three year course students practise a number of skills such as painting, drawing, printing, 3-D, relief work, sculpture and design alongside exploring ideas and researching themes.
Students work on three projects where they explore and investigate themes, trying to resolve problems creatively. This is all achieved with guidance and support from the teachers.
The course is assessed through:
Personal Portfolio
Students create a personal portfolio of work which demonstrates the knowledge, understanding and skills that they have learnt throughout the course. They will complete approximately six pieces of preparation work and one final artwork e.g. a painting, for each of the course projects as well as taking a 10 hour trial examination in Year 11. All work completed goes towards the portfolio, which is worth 60% of the student's final grade.
Examination
A 10 hour examination, split over two days and based on an externally set assignment, is worth 40% of the final grade.
Students who study Art often go on to gain employment in many fields of study such as graphics, painting, fashion, product design, architecture, teaching, web design, interior design, textiles etc. as well as being of general use in many other areas such as problem solving, organisation, developing work, research and investigating and communicating. More and more employers these days are interested in a workforce with an ability to think creatively.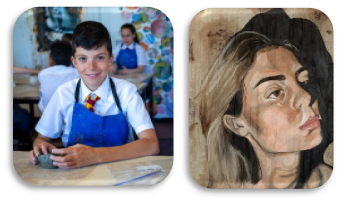 key stage 5
Art and Design: Fine Art Key Stage 5
Students who choose to study Art at Key Stage 5 follow the Edexcel Art and Design: Fine Art A level course.
The Art department at Marlborough has a long standing excellent reputation both within the county and further afield. Our results are outstanding often seeing 100% of students obtaining 9 - 6. The students average grade this year was an A grade. We also offer photography here at Marlborough and have four dedicated large art rooms including a dark room. We have an excellent team of teachers with a broad range of specialising including, Painting, 3:D and sculpture, photography and Textiles.
Course Content:
The course consists of two components
Personal Investigation - worth 60% of the final grade. This contains practical work and a small guided written study
An externally set assessment – worth 40% of the final grade. Students have the opportunity to develop their skills in painting, drawing, print making and 3D work. They can explore and investigate their own ideas with step by step guidance from teacher-led tutorials.
There are also trip opportunities such as visits to the Tate, The Saatchi and Curwen Print Centre.
Assessment:
Students are continually teacher - assessed throughout the course with verbal and written feedback.
There is a pre public examination in December for Year 13 and then the externally set examination which occurs in April of Year 13 also. This is worth 40% of the final grade. There is a long preparatory period to allow students to study towards their final outcome with their teacher's advice. Yr 12 students have a pre public examination in June.
Studying Art is essential for any form of design or art courses such as Painting, Sculpture, Graphics, Product Design, Fashion, Textiles, Architecture, Furniture/Jewellery Design etc. Art also shares many links with other subjects such as English, Drama, History, Maths etc. The modern world requires many skills in creativity, industries connected with new Media, Advertising, Gaming, Film, Performance and Journalism often employ graduates with an education in the Arts.