Philosophy and Ethics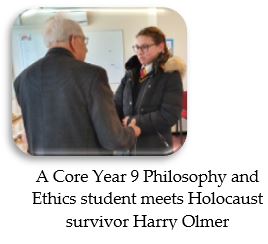 After studying Core Philosophy and Ethics, our students should be able to show a basic understanding of the six major world religions. Students should be able to recognise the basic beliefs and practices of these religions, being able to draw comparison and distinguish similarities and differences between these faiths.
Students will also have an understanding of ethics and morality, as well as showing an understanding of the influences can effect these different beliefs. This does not just focus on religious beliefs and faith systems, but also on different secular ideas such as crime and punishment, wealth and poverty, and families and relationships – issues that are so often highlighted within society today and that impact significantly on many lives. This will also enable students to understand where many of the modern day views in Great Britain have come from.
Students will be able to examine the beliefs and ideas of others, but it is also incredibly important for them to be able to decide an opinion of their own on different topics and to understand where their own views have come from, and the role that different influences may have played as they have formed their own views.
In Key Stage 3, students are taught the fundamentals of the six major world religions; Christianity, Islam, Judaism, Sikhism, Hinduism and Buddhism. This curriculum decision was made after looking at the religious makeup of the school. For the most part, the religious education aspect of Philosophy and Ethic s is required to have a basis in the traditional religion of Great Britain, (as stated in the Herts Agreed Syllabus for RE). This means that there is a basis in Christianity for many of the issues taught. Many students are identified as Christian, however there are also many that identify as non-religious, and other smaller groups of different religions. These are taken into consideration when lessons and schemes of learning are planned, and therefore a broad spectrum of beliefs and teachings on different faiths are included so as not to minimise or maximise the importance of one faith over another. These are then used to understand and identify different belief systems and ideas of ethics and morality, linking to comparisons of religion and scientific views.
In Key Stage 4, students progress to study more philosophical ideas such as good and evil, again looking at these from different viewpoints and including religious perspectives of these. This then progresses to a study of diverse moral and ethical ideals, using the basic religious knowledge as a baseline for understanding why different individuals may have differing beliefs. These decisions were reached primarily through a need in understanding of different religions, particularly in a multicultural society like our own, and particularly in a world where many of our students will be going out and working or travelling in the wider world. The Key Stage 4 curriculum has been linked to the GCSE curriculum studied, to ensure that students are study similar topics to their colleagues that have chosen the GCSE, in order that they may be able to share similar views and have important discussions on relevant subjects.
Please use the links below to find out more about the teaching and learning taking place in the Philosophy and Ethics department:
Click here to return to the Humanities page.