Media Studies - Key Stage 5
Students who choose to study Media Studies at Key Stage 5 follow the Eduqas Media Studies A level course.
Media Studies students have the opportunity to take part in offsite visits to Media institutions and attend talks from industry practitioners. We have well-equipped facilities to enable high quality production in coursework units plus skilled teaching staff with a wealth of experience of teaching Media Studies across a range of examination boards.
Course Content:
The course covers a wide range of Media forms (print products, advertisements across all media, moving image media – film, video, TV, computer games, radio and online media). Key concepts that run through the analysis of different media types comprise of:
Construction (media language and techniques used in their composition)
Representation (how media products differently represent groups of people (Gender, Ethnicity, Age, Nationality)
Issues and ideas
Genre and generic conventions
Narrative structures and Ideology
Audience - how far we and wider culture may be affected or shaped by media messages and how far we might use them in the creation of our identity. Consideration is also given to what pleasures and benefits we may gain from our use of Media and notions of how much choice we have in the production of and access to media products. Additionally, consideration will be given to ideas of ourselves as Media producers.
Institution and Regulation analysis and investigation of the processes and functioning of both large corporations and small independent media producers, together with an overview of the statutory bodies that regulate each Media sector.
Assessment:
Students will be assessed through three components:
Component 1 – Media Products, Industries and Audiences. This 2 hour 15 minute examination is worth 35% of the final grade and consists of two sections:

Analysing Media Language and Representation - based on two of the following forms; advertising, marketing, music video or newspapers. (One question on an unseen print or moving image product and one question on a set studied text and an unseen audiovisual or print text)
Understanding Media Industries and Audiences - one stepped question on media industries, one stepped question on Audiences. Questions may be based on two of the following media forms; advertising, marketing, film, newspapers, radio, video games.

Component 2 – Media Forms and Products in Depth. This 2 hour 30 minute examination is worth 35% of the final grade and consists of three sections:

Television in the Global Age
Magazines: Mainstream and Alternative Media
Media in the Online Age
Each section contains one two-part question or one extended response question.
Component 3 – Cross-Media Production. This is an internally assessed production chosen by the student in the response to choice of briefs set by the examination board. It is worth 30% of the final grade.

Students must submit their production along with a statement of aims and intentions, outlining the ways in which their knowledge and understanding of the theoretical framework will be applied in response to the brief and how the intended audience will be targeted.
The media industry is one of the fastest growing areas of the economy and Media Studies combines well with a number of other courses at universities. This is a rigorous course involving theoretical perspectives, critical analysis combined with practical production and thus demonstrates to universities essay writing and analytical skills as well as practical ones.
As the course covers a wide range of media, from film, TV, print media and digital media students gain a broad grounding and insight across the range of creative industries. For students wishing to enter into a career in Media this is the perfect foundation to a work placement or the beginning of a pathway in the Creative industries.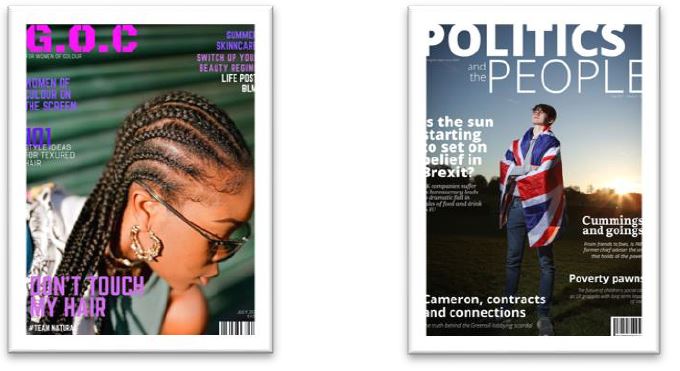 Please click here to return to the Media Studies page.