Media Studies - Key Stage 4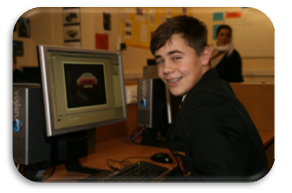 Students who choose to study Media Studies at Key Stage 4 will follow the Eduqas GCSE Media Studies course.
The course consists of three components:
Component 1 Exploring the Media: introduces learners to the knowledge, understanding and skills required to look critically at media products through the study of key areas of the theoretical framework: media language and representation.
Component 2 Understanding Media Forms and Products: Component 2 builds on component 1 through a focus on all areas of the theoretical framework - media language, representations, media industries and audiences – in relation to the in-depth study of products set by WJEC Educas.
Component 3 Creating Media Products: In component 3 students create an individual media production in one form for an intended audience, applying their knowledge and understanding of media language and representation.
The types of tasks that are completed are:
Extensive and meaningful coverage of media theory and practice
Practical work which integrates theories and concepts
A choice of assignments for production and pre-production
The chance to study across a range of different media
Opportunities to learn about real media products and industries
Combination of written and oral assessments, presentations and practical projects.
The course is assessed through:
Controlled Assessment - Component 3 consists of the student completing an individual media production, worth 30% of the final grade.
Examination - There are two 1 hour 30 minute examinations based on Components 1 and 2, worth 40% and 30% respectively of the final grade.
Students who study Media Studies can go on to gain employment in any form of journalism or media based career including web design, branding, design, copywriting, design layout, film, television and the fastest growing department of any business; social media strategy and implementation. Media Studies teaches critical thinking skills that are also transferable across many other careers.
Please click here to return to the Media Studies page.