Drama - Key Stage 3
Drama develops many transferable skills such as confidence, public speaking, group work, creativity, problem-solving and communication.
Our aim for the Drama curriculum at Key Stage 3 is to provide opportunities for students to develop communication skills, explore alternative viewpoints and create their own content based on a variety of stimuli.
In Year 7 we cover the following:
Introduction to Drama: Developing confidence and building skills for creative work
Pantomime: Looking at the codes and conventions of this genre
Car Jacked: Cross curricular work based on the school's 'Big Read' title
Mad Scientists and Zombies: Approaching and analysing text
Urban Legends: Exploring the nature of storytelling, students will be looking at Urban Legends and the tale behind them
Harry Potter: This is a cross curricular project with English, exploring the writing of JK Rowling
In Year 8 we cover the following:
Skills for Devising: This unit starts to develop students' skills for building their own performances, in preparation for GCSE.
Teacher in Role: With the teacher in role as one of the characters, students have to use their understanding of vocal and non-verbal communication to solve a problem.
Devised Performance: Students will work on a devised teacher led performance based on a play that will engage them in work developing the class as a production company with varying roles and responsibilities
Romeo and Juliet: Students will perform a variety of scenes from a well-known play and will learn lines from this performance and adapt the piece through a variety of workshops
Scripted Performance and Stagecraft: Students will take on varying production roles and perform a short play working towards individual targets and roles to come to together in a final whole class performance.
Monsters of the Past: Students will engage in a GCSE style workshop applying a variety of the skills learnt in the past two years and gaining a better understanding of the application of these skills in post scripted and devised work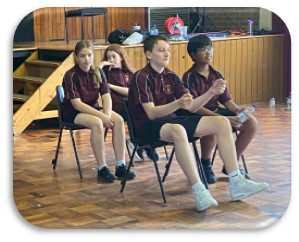 Curriculum Implementation
Click here to view the curriculum implementation overview for Drama at Key Stage 3.
Curriculum Timelines
Click here to view the curriculum timeline for Drama at Key Stage 3.
Curriculum Learning Journey
Click here to view the learning journey for Drama.
Click here to return to the Drama page.