Music - Key Stage 3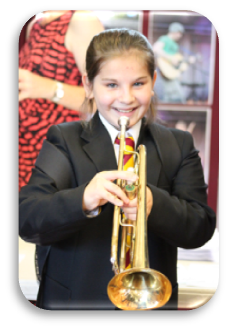 Music is taught within a creative and fun atmosphere where students are encouraged to fulfil their potential in performing, listening and composing.
Students at Key Stage 3 each receive two sixty-minute lessons per timetable cycle. Students learn to play and perform confidently in a range of solo and ensemble contexts, using their voice and instruments. They are given opportunities to improvise and compose; and extend and develop musical ideas by drawing on a range of musical structures, styles, genres and traditions. Students develop their understanding of traditional music notation appropriately and accurately in an engaging and user-friendly manner. Students learn to listen, with increasing discrimination, to a wide range of music from great composers and musicians. Students are given the opportunity to continue with or take up instrumental or vocal lessons, and currently we offer instrumental and vocal lessons in:
Flute
Clarinet
Saxophone
Electric Guitar
Drum-kit
Voice
Keyboard
Piano
All instrumental and vocal lessons take place during the school day. Fees for instrumental and vocal lessons are set by our local music hub the Hertfordshire Music Service, who provide the lessons.
Curriculum Implementation
Click here to view the curriculum implementation overview for Music at Key Stage 3.
Curriculum Timelines
Click here to view the curriculum timeline for Music.
Curriculum Learning Journey
Click here to view the curriculum learning journey for Music.
Click here to return to the Music page.