Mathematics - Key Stage 4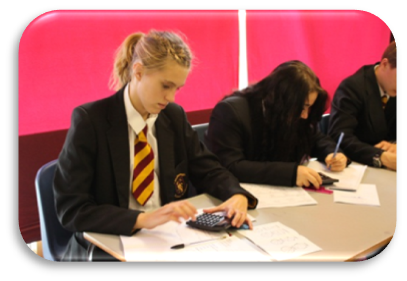 At Key Stage 4 students will follow the Edexcel Mathematics (9 – 1) Mathematics course.
The areas covered in the course include:
Number
Algebra
Ratio and proportion
Geometry and measure
Probability and statistics
During the course students will:
Be challenged with a variety of problem-solving activities
Improve their reasoning skills
Develop confidence when answering mathematical style questions, both algebraically and numerically
The course is assessed through three, 1 hour 30 minute equally weighted examination papers:
Paper 1 is non-calculator
Paper's 2 and 3 allow for a calculator to be used
All students follow a linear course which means the assessments are taken at the end of the course
Most careers will require you to have a qualification in mathematics, as will Post 16 and college courses, especially the following:
Economics, Information and Communication Technology, Medicine, Banking, Architecture, Insurance, Engineering, Marketing, Accountancy, Business Management, Psychology, Pharmacy, Computing and the Sciences.
Click here to return to the Mathematics page.