Classical Civilisation - Key Stage 4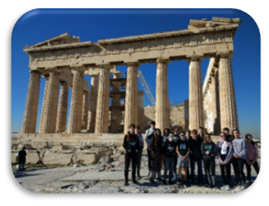 Students who choose to study Classical Civilisation at Key Stage 4 will follow the OCR Classical Civilisation (9 – 1) GCSE course.
The areas covered in the course include:
Myth and Religion:
The study of myths regarding the role of the gods and heroes in the founding of Athens and Rome, and the importance of Heracles/Hercules to both the Greek and Roman world.
Myth as a symbol of power is explored in this topic, as well as popular myths about the underworld.
Students look at the role of religion in the everyday lives of ancient Greeks and Romans.
Roman City Life:
A study of a variety of aspects of Roman society including housing, education and the lives of young people in the Roman world
The study of Roman Literature in translation which gives a fascinating insight into the minds and lifestyle of the ancient Romans.
The types of tasks that students complete vary between topics:
As part of the Myth and Religion topic students undertake an exploration of Roman and Greek gods, temples, rituals and sacrifice
Students also complete an evaluation of ancient Greek and Roman texts in translation, including stories and myths about journeying to the Underworld and the legendary hero Hercules.
The Classics department run a residential trip to either Italy or Greece, both of which have proven extremely popular over the past few years. Both trips bring to life the curriculum topics as students get to visit archaeological sites and buildings that they study in the classroom; the Colosseum, the Pantheon and the Trevi Fountain are amongst those visited in Italy, in the trip to Greece students have visited the Parthenon in Athens and the ancient site of Olympia in Greece.
The course is assessed through examination:
Myth and Religion – A 1 hour and 30 minute written paper worth 50% of the final grade
Roman City Life – A 1 hour and 30 minute written paper worth 50% of the final grade
The Classical Civilisation course equips students with the skills to access a variety of career paths. Studying classics highlights students' ability to learn and comprehend challenging subjects, develops their ability to research, collate and analyse materials and teaches them to critically evaluate resources in order to formulate arguments which can then be presented competently. Students also have the ability to work alone or within a team and to think imaginatively. These are all skills that would be transferrable to a number of different jobs ranging from the political world to a role in the legal profession such as museum education, exhibitions officer, archivist or historic buildings' inspector. Conservation officer or archaeologist are other careers that knowledge of Classical Civilisations can be used for.
Click here to return to the Classical Civilisation page.