Chromebooks and BYOD 2023​​​​​​​
The school's established use of Google Workspace and portable devices has been invaluable during the COVID-19 pandemic, which saw significant restrictions placed on students access to education. Our use of Google Workspace has ensured that all students are still able to follow a full timetable of lessons, albeit remotely.
The BYOD Learning Scheme is a new provision this year available for those students or families who choose not to join our Chromebook scheme. However, as a school we firmly believe in the merits of purchasing a FreedomTech Chromebook and the significant benefits this packages in tails. For more information on how we use the BYOD platform for teaching and learning please click here.
The use of devices has facilitated lessons to be even more engaging and allows the School to extend effective learning beyond the classroom. Your child will use their Chromebook in all subjects, whether it be for research, producing work or interacting with their peers during lesson time. Your child's Chromebook will be an essential piece of their equipment; their access to Google Workspace will enable all our students to have 'anytime access' to information wherever they are.
Should you require further information about the BYOD or Chromebook scheme please contact Chromebooks@marlborough.herts.sch.uk
At Marlborough we operate a 'Chromebook Learning Scheme', which has been successfully used for the last two years.
Students joining us in September or currently in Year 7 & 8
This scheme is available for new Year 7 starters in September 2023, and we have now opened the portal for the purchase of Chromebooks for any new starters, or any Year 7 & 8 students who currently do not already have a device.This will close on the 10th July 2023 and all orders will need to have been placed by that date.
It is compulsory for all Year 7 students to have a Chromebook either from our scheme or BYOD as part of the learning journey at Marlborough.
Please click on the link below for a copy of the parent pack regarding this scheme. There is also more detailed information about this scheme further down this page.
We are confident about the impact this development will have on our student's learning. Our student's daily lives are filled with technology, and they are quick to embrace new developments. We want our students to feel at ease in this rapidly changing climate.
Since the COVID-19 school closure, we are progressively using the Google Suite of software as a tool for teaching and learning, enabling students to work online, access online lessons, saving work online so that it can be accessed both in and outside of school. The Chromebook will be their electronic organiser, differentiated textbook, their way to effectively communicate with their teacher and so much more.
Embracing the combination of school and home learning is crucial to the future success of young people. Technology allows learning to be increasingly engaging and lets the school extend effective learning beyond the classroom.
Chromebooks and Google Apps for Education will enable all our students to have access anytime to information wherever they are. We need to make full and effective use of technology for learning and, coupled with this, is the need to ensure students learn safely, effectively and productively.

By joining this scheme, students will have a Chromebook exclusively for their own use both at school and at home. There is no financial gain to The Marlborough Science Academy from this scheme, and we have worked with a number of hardware suppliers to negotiate favourable prices on a range of Chromebooks.
---
Please click on the picture below in order to access the portal:

Here are the login details that will need to be used in order to access the devices available and start the order process:
Username: Marl2023
Password: S3cure02!
Price Breakdown
We have decided to only offer one model of Chromebook which is the Lenovo 300e, and the pricing is listed below (this is fo the full package as detailed in the parent pack):
| | |
| --- | --- |
| | Freedom Tech Pricing |
| Cash | £415.18 |
| 12 Months | £36.35 |
| 24 Months | £19.13 |
| 36 Months | £13.25 |
This pricing is also available after logging in to the portal.
---
What is a Chromebook?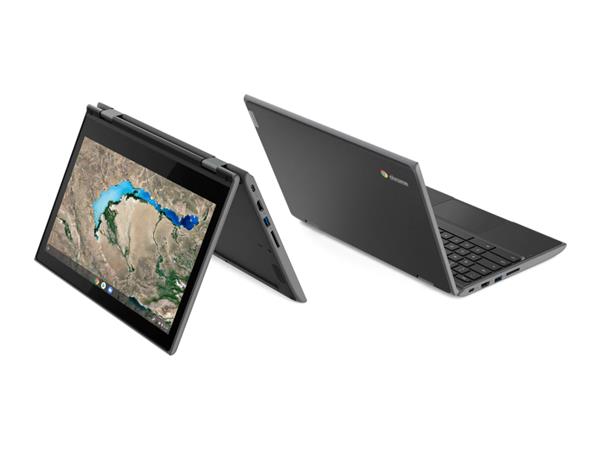 The name says it all. What makes a Chromebook different from other laptop PCs is the Chrome operating system, which is designed to utilise mostly online applications and storage rather than software and files loaded onto an internal hard drive. This means that Chromebooks primarily work through a wireless connection with Google apps and documents available whilst online in the cloud. The result is a new category of laptop that is very thin, very light -- and very popular.
Here's a quick guide to get familiar with a Chromebook:
https://www.chromestory.com/2019/12/chromebook-user-guide/
Product Description
Classroom-tough design.
This classroom tool has advanced durability. It is built tough with rubber bumpers, reinforced ports, and a 180º hinge that won't snap under pressure.
Keyboard withstands all hands.
The full-sized keyboard includes a sealed touchpad and resists spills. And its mechanically anchored keys stay put and cannot be pulled off - no excuses for not doing the latest assignment.
Homework never looked this good.
Students will spend a lot of time looking at the clear screen. Its anti-glare technology reduces eye strain and allows them to look at it even longer.
Leave the charger at home.
With several hours of battery life, the 300e Chromebook lasts an entire school day and more. Students can work a full day, bring it home, plug it in, and let it recharge overnight for the next day classes.
When do we get our Chromebook once we have placed our order?
Once the first payment or has been received, Chromebooks will be allocated to students. The collection date will be advised later.
Benefits to parents
No credit checks.
No upfront cost if you chose to pay monthly.
Once the final payment has been received, you will own the Chromebook and will not be charged any additional fees to do so.
Special education pricing.
Chrome Licence.
3 Years ADP cover.
36 month extended warranty.
36 month Advanced Repair Service.
Research has shown these devices are very reliable and have good longevity.
Online HelpDesk for Parents.
Online tracking, repairs and returns.
Furthermore, Chromebooks are increasingly being used in further education.
It will be used as a professional tool at school and for homework, but students can use for their personal use at home.
Supporting students in developing technological skills for the world of work.
Choice of outputs meaning that students will still use pen and paper as the Chromebook is not a substitution for writing by hand.
Full ownership of device at end of the scheme of monthly payments.
How do I connect the Chromebook to the Internet in my house?
Chromebooks use wireless to connect to a network so you will need Wi-Fi at home to use the Chromebook on the Internet. If you have Wi-Fi, your network security key can be added to the Chromebook before log-on. If you do not have Wi-Fi at home, the Chromebook will still work for many things (most apps, reading eBooks, etc.) but, for example, email and web browsing will not be accessible until the Chromebook is back within the school network.
Is the battery good enough? How will charging work?
Chromebooks have a battery life of 10 plus hours. This varies depending on what the Chromebook is being used for (e.g., web browsing is very different to using Youtube). As long as students charge the Chromebook overnight, it will last all day.
Will my child need their own Google account? If so, how will the school be able to put apps on the Chromebook?
Your child's school account is in fact a Gmail account and this account will be used. The school will use management software to enable it to distribute apps to any Chromebook registered with it and effectively will 'gift' the app to the device.
Who owns the Chromebook?
Legally The Marlborough Science Academy owns the Chromebook until full payment has been made.
What is the TMSA doing to reduce e-Safety problems with the Chromebooks?
TMSA has a very effective web filtering system and all devices attached to our network go through this web filter. This system blocks unsuitable content and logs access. Mobile Device Management software will be installed which allows the school to monitor usage and if required add/remove apps or remotely wipe devices.
I am concerned about my child's work being stored with Google, how safe is it?
The data is the property of TMSA – Google Workspace customers own their own data, not Google. Google offers customers a detailed data processing amendment that describes their commitment to protecting your data. As a school, we are following DfE and ICO advice in this area.
Google does store and log information but this data is encrypted in transmission and at rest. Google is fully GDPR compliant and they do not share the data.
Security
Pre-installed internal software will be used to monitor Chromebooks during lessons and to support learning.
How will devices be charged?
Students are expected to charge their devices before coming to school for the day. This is due to few electrical points in classrooms, especially in the older buildings and due to the tripping hazard of trailing leads. If the device runs out of charge students will choose the 'traditional' way of recording their learning via pen and paper.
Can my child print from their device?
Chromebooks will be able to print to a variety of devices around the school. These prints will subtract from their personal print allowance. If their allowance reaches zero, they can request extra prints to be added to their account from the IT Support Team.
What will happen at the end of the 3 years?
At the end of the 36-month lease, you will own the device and there is no additional cost for this.
How do I log a repair ?
Parent/Carer logs the repair claim at https://freedomtech.co.uk/help
Complete the requested webform and detail the claim in the description area.
Once the claim has been submitted the parent will receive an automated email response containing a unique FTCS_XXXX reference number.
Parent /Carer will then be contacted by the repair centre to organise the collection of the device. Contact made within estimated 4 hours (Monday to Friday)
Parent/Carer can then take the FTCS_XXXX number to the school as proof that a ticket has been logged – school at this point can issue a loan device, keeping track of who has what device.
Once received at the repair centre the parent will be emailed with a repair tracking ref number to keep track on the progress of the claim / repair.
Once repaired the device will be delivered back to the collection address, unless otherwise specified by the claimant.
The parent/Carer must return the loan device to the school once they receive their original device back.
Further Help:
For any questions or help please contact :
chriomebooks@marlborough.herts.sch.uk