Student Leadership Team 2023-24
Hello, and welcome to The Marlborough Science Academy.
It brings us great pleasure to introduce you to our school, a community united by our shared values and one that we are proud to be a part of.
As Student Leaders, we oversee the School Parliament's sub-committees and play a pivotal role in providing students the opportunity to have their say and help make positive changes to our school. We aim to encourage our peers to be reflective, kind and compassionate towards the topics discussed and challenge them to be problem solvers. This creates an environment in which students can develop their character and find confidence in articulating their views. Parliament representatives, from each form, meet once a week to discuss current community issues and events. We welcome passionate, driven young people who enjoy collaborating with students from different year groups and are always looking to strengthen our team with new faces.
Our aims for the 2023-2024 academic year are: to foster greater links between the year groups through enrichment activities; to continue contributing to our extra-curricular programme; to help to develop the House system even further by providing more opportunities for students to get involved and continue to support the school in being an eco-friendly space. Similarly, mental health is something we also feel passionately about and want to ensure our tenure as Student Leaders continues to see our school being a friendly and safe space for all.
We are proud to be the link between students, staff and the governors. We are also proud to be role models and will demonstrate the high expectations our school has for attendance, punctuality, hard work and behaviour. However, we understand that some days will be better than others, and at different times, students might need a friendly ear or an 'arm around our shoulder' or just somebody to talk to.
Daisy, Sabah, Gracie, Ishika, Grace, Selin and Shion.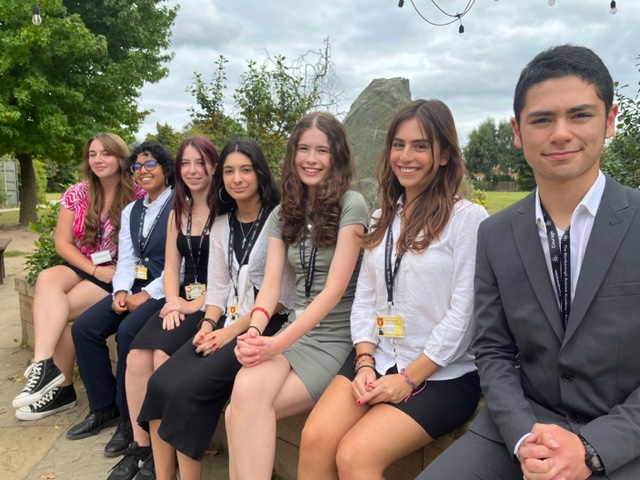 Here's a small introduction to the team - from left to right!
Hi I'm Daisy! I've really enjoyed participating in school productions and getting to know more people. I hope to assist the ongoing development of mental health support within the school.
Hi I'm Sabah, 17, I like books and BBC dramas and am indigenous to the LRC. I look forward to working on our house competitions and our school community.
Hi I'm Gracie, I take Classics, History and Sociology. I'm passionate about the environment and animals, and can't wait to help in school.
Hi, I am Ish! I love reading and music and even play the drums. I am so excited to work with you all to improve our school community and ensure that each student is safe, happy, and learning in the best environment possible.
Hi my name is Grace and I love reading and travelling. I hope to work with the school to promote sustainability and help ensure that the school community is warm and welcoming for all.
Hi my name is Selin, I take Biology, Psychology and English Literature. I'm Turkish and I love reading and helping people in every single way possible.
Hi. I'm Shion Evans. I have a keen interest in science and sports and I wish to help improve many areas of the school, including extra-curricular activities.