Textiles
Art and Design: Textiles Design Key Stage 4
Students who choose to study Art and Design: Textiles Design at Key Stage 4 will follow the WJEC Eduqas GCSE in Art and Design (Textiles Design) course.
The Textiles Design GCSE encompasses the creation of designs and products for woven, knitted, stitched or printed fabrics and involves an understanding of fibres, yarns and fabrics.
During the three year course students will learn about:
Fabric construction
Production-planning systems
Materials and components
Industrial practices
Computer aided manufacture and design
Health and safety
Colouring textiles
Fabric properties and applications
Recycling and the environment.
The types of tasks that students will complete include:
Developing ideas that are informed by contemporary textile design in their own and other societies and other sources, for example fine art and crafts such as jewellery.
Exploring a wide variety of work produced by textile designers and understand the differences in their methods, approaches, purposes and intentions.
Reflecting upon work as it progresses by exploring ideas, selecting and experimenting with appropriate breadth of textile design approaches and processes.
Presenting personal, imaginative final outcomes, together with selective evidence of thinking and production processes
The course is assessed through:
Personal Portfolio
Students will create a personal portfolio of work which demonstrates the knowledge, understanding and skills that they have learnt throughout the course. This is worth 60% of the student's final grade.
Examination
A 10 hour examination, split over two days and based on an externally set assignment worth 40% of the final grade.
Students who study Textiles Design often go on to gain employment in fashion design, graphics design and theatre – dress design.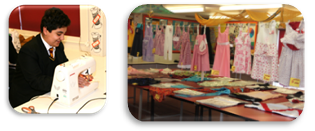 Curriculum Implementation
Curriculum Learning Journey