Heads of School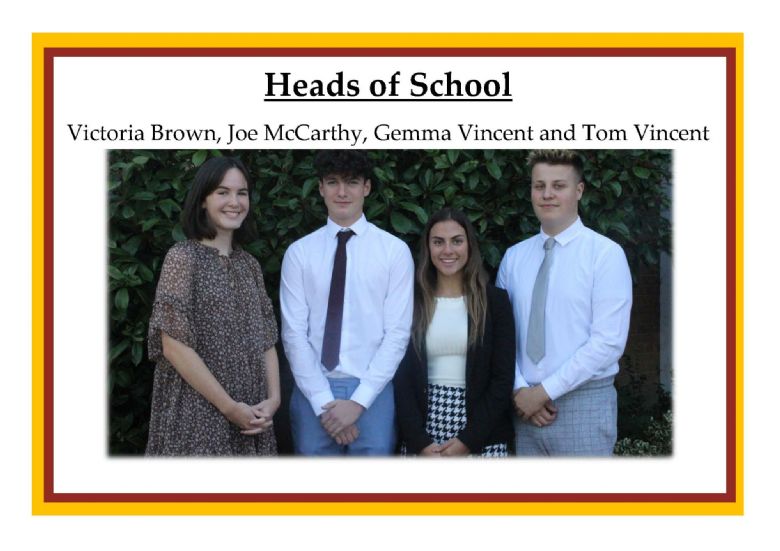 Joe McCarthy
I'm Joe, I'm studying Biology, Chemistry and Politics as A levels, and I have recently applied to study medicine at university next year. As an avid sportsman, one thing that I have really missed (thanks to Covid) is representing Marlborough's sports teams and I hope I have the opportunity to do so before I leave in the summer! I'm really excited about being Head Boy and part of the Student Leadership Team this year; we're all enthusiastically looking for ways to help the school we love be even better. We'd like to help the school's Senior Leadership Team tackle issues in student mental health and the acute problems that Coronavirus has caused. We'd also like to leave a legacy of the greenest possible Marlborough.
Gemma Vincent
My name is Gemma, and I am Head Girl here at Marlborough. I am currently studying Biology, Psychology and Business Studies with hopefully going on to study Physiotherapy at university. As one of the Heads of School, I strive to continue to help present the students' views on important and topical aspects of student life. I'd love to help establish a students' social club, run by the Heads of School with the support of the Student Leadership Team. Being in this role means a lot to me and I look forward to making an impact to the Marlborough community.
Victoria Brown
I'm Victoria and I am Deputy Head Girl; I study Psychology, Drama and English. I am thankful for the opportunity to represent Marlborough and its amazing community; it allows me to be a part of an enthusiastic and encouraging team that strives to make our school an even better place. Marlborough has offered me so many opportunities and I am be grateful for this. Together, the other Heads of School and I are hoping to provide more support for students suffering with mental health to ensure that no one is alone during this especially hard period.
Tom Vincent
My name is Tom and I am Deputy Head Boy. I am currently studying Drama, Psychology and Photography for A Levels, and after leaving school I hope to get a degree in Musical Theatre. As Deputy Head Boy, I would like to focus on the mental well-being of students to make sure they feel as though school is a safe and open environment. I look forward to working with my fellow Student Leadership Team to overall make Marlborough a better place for everyone.
Grace Scott
As part of the Student Leadership Team I am hoping to work with our school Parliament on ways we can enhance the school experiences for all students! I would also like to help make our school the best it can be. I cannot wait to work with you and am really excited for the academic year ahead!
Noah Asbury
Hi! I'm Noah and I am studying Politics, Computer Science and Media Studies. I would like to find new ways for students to express themselves and socialise with their peers. I would love to leave a legacy of even more social areas and clubs for students to boost their confidence and help them to enjoy school even more.
Saffy James
Hi, I'm Saffy and I am studying: Biology, Geography, Chemistry and Business Studies. As part of the Senior Leadership Team my goal is to help find ways to improve our school's mental health programme and to help find ways to support those who have faced hardships during the Covid-19 pandemic. I also think it is really important that we continue to maintain an environmentally friendly school, adding to systems already in place (such as our recycling strategies and garden areas) to create a legacy of a sustainable nurturing space for students.
Charlotte Dodd
Hello, my name is Charlotte and I am studying English Literature, Psychology and Business Studies. I am passionate about mental health and finding a way to work students during this tough time. My main goal is to help students feel safe at school and to use my role on the Student Leadership Team to help be the voice of the students.